RTTL 2754 The total renovation includes the following:-
New TAMCO 6 Channel TX/RX.
New 40 amp ESC controller, with fuse and switching.
Two new Lipo batteries 11.1volt 3500 in parallel for Maximum endurance (6 hrs)
Two new brushless 930kv motors turning contra rotating propellers.
New steering servo plus glued down ballast.
The sale includes a history of its final demise off Gibraltar whilst shadowing some Russian warships passing through the straights. The asking price is based on the outlay of materials excluding time spent on the actual total renovation. This is a high speed boat of wood construction, reduce speed from full ahead to half ahead making turns, remember a collision at speed will probably sink both boats.
₤375 - 10% of sale price to YMBC funds
Contact - Brian Wormald tel. 01904 750441
Control centre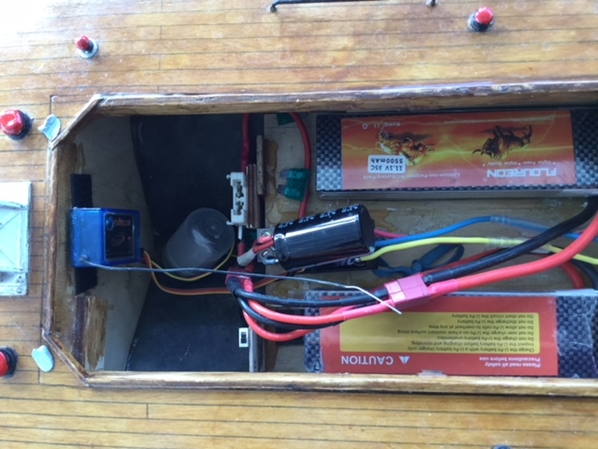 Detail
Control centre, showing the radio,
the antenna which goes up into
the lower bridge for maximum range.
Fuse and on/off switch,
the ESC plus the two new
Lipo 11.1volt batteries in parallel,
giving well over 6 hrs running time.
Engine room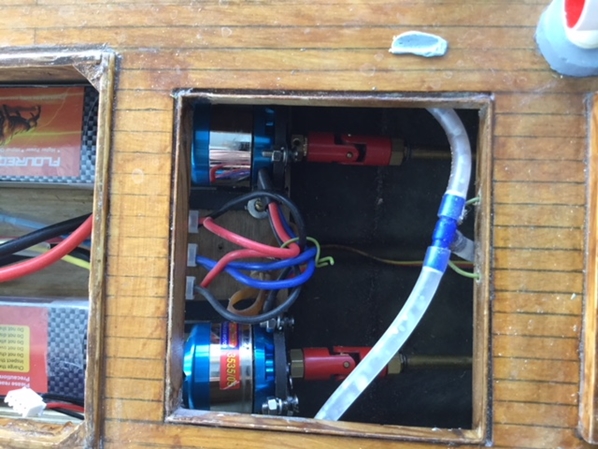 Detail
The engine room, showing
the new brushless motors.
Steerage / Ballast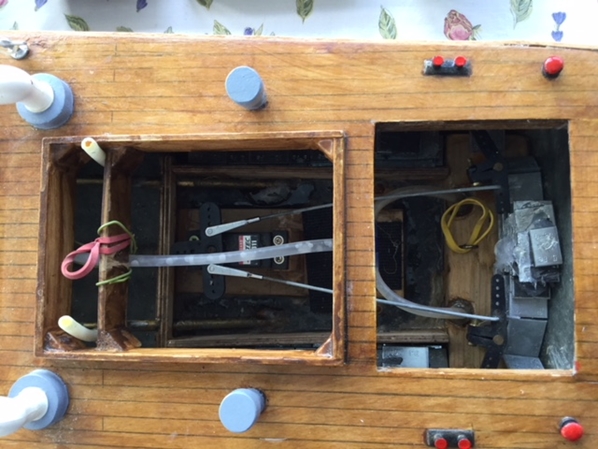 Detail
The steerage compartment and
ballast control aft.